Woohoo!! Hello my bloggy friends! So today I want to tell you about 2 blog awards and a very fun and exciting blog hop :)
So first off I want to thank Carolanne at
Logans Crafty Momma
for giving me the Leibster Blog award.

I also want to thank Tiffany at
Sparkled Memories
for giving me the Versatile blogger award!
Make sure you visit both of their blogs to check out their wonderful crafty creations! I will make another post soon with the list of all the blogs that I will forward these awards too :)
Now for the blog hop info...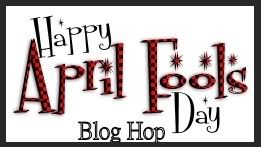 Yay!! An April fools day blog hop!! This blog hop is hosted by April at
It's a Joy to Scrap
. There will be amazing projects from all the talented bloggers in the hop and some awesome blog candy so don't forget to stop by and hop with us :)
Until Next Time,
Kara