Hi Friends!
Take a look at this cute little butterfly frame that I made for a friend to put a picture of her daughter.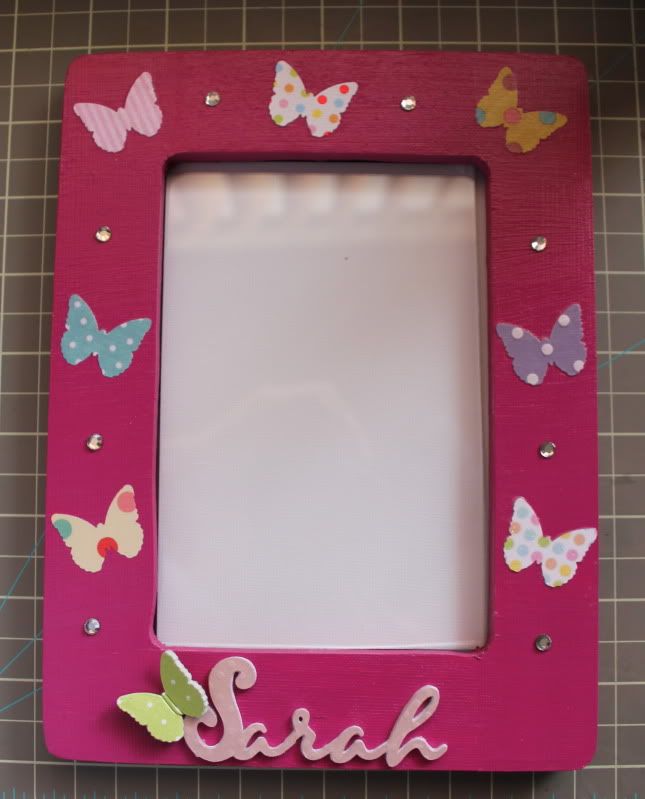 I used a wood frame w/glass that I bought at Michaels and painted it with Delta Creative Royal Fuchsia acrylic paint. Then I used a Martha Stewart butterfly punch and punched out random pattern paper from my scraps. I glued them to the frame using Mod Podge (the glossy one). Once I glued all the butterflies I coated the entire frame with Mod Podge and let it sit to dry.

I used Cricut Gypsy font for the name and cut it out 6 times using Bazzill Basics Dotted Swiss paper . I then pasted the names on top of each other to give it dimension and used a hot glue gun to glue it to the frame. The butterfly was also punched 6 times, bended and glued on top of each other. I actually had to use Krazy Glue for the butterfly because it did not stay with the hot glue. To put a finishing touch I used my I-Rock to add some bling!!!
Hope You Enjoyed!
Until Next Time,
Kara